What Are The 'First 1000 Days'?
If you're trying to get pregnant, eating as if you're already pregnant can help to prepare your body for conception and maximise the chances of a successful pregnancy. A growing body of evidence now linking preconception diet has a significant impact on pregnancy outcomes. It may have a lifelong effect in childhood and later life, including a greater risk of obesity, type 2 diabetes, heart disease and allergy.
The first 1000 days is the period before conception through toddlerhood, also known as early life nutrition.
Traditionally, it refers to the nine months of pregnancy, plus the first two years of a child's life. Since the egg and sperm carry the DNA genetic material for the growing baby, more research has shown that the mother's health, diet, and lifestyle (egg) and the father (sperm) during the six months leading up to conception have an essential role. 
When Is The Best Time To Start A Preconception Diet?
It takes about 90 days for the egg cells to develop and mature before you ovulate, which means that it can take three months for you to optimise egg quality.
Unlike for men, it takes about 60 days for sperm to fully mature. Hence, I'd recommend changing your diet and lifestyle as soon as you decide to start a family. At least 3 – 6 months is ideal before getting pregnant.
I'd also recommend discussing with your GP to organise a preconception blood screening test to understand your current health status and correct any nutritional deficiencies, especially if you plan to cease contraceptive pills.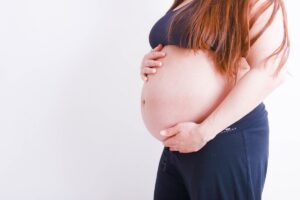 What Does The Research Say About Preconception Nutrition?
Excess body weight and gestational weight gain
A systematic review found that the pre-pregnancy BMI for the mother is directly associated with the risk of developing gestational diabetes. 
Excess body fat can also reduce fertility and affect human oocyte quality (immature ovum, egg cell) and pre-implantation embryo development. These are one of the critical factors in determining your success rate of pregnancy. 
Children are more likely to become overweight in adult life, with the evidence associated with the mother's weight at the beginning of the pregnancy. Besides, maternal obesity often precedes gestational diabetes.
Influence on appetite and food preferences for your child
A study reporting what a child eats (at ten years of age) was strongly associated with the mother's nutrients during pregnancy, especially for protein and fat. This suggests that programming of appetite in the offspring may occur as early as during foetal development. 
Early-life nutrition affects the developing immune system and the risk of allergic disease.
The allergic disease may manifest very early in life, usually seen in the first few months after birth. While many immune system disorders are genetically inherited, early environmental exposure during foetal development, such as maternal nutrition (what the mothers eat), microbial burden (gut microbiome) and pollutants such as cigarette smoke, may alter the immune system function. Besides, women with a history of allergy also appear to have a higher allergic risk for the baby.
How To Reduce The Risk Of Allergic Disease For Your Baby:
Put What You Learnt Into Action
Aim to achieve a healthy body weight

before becoming pregnant. Losing 5 – 10% of body weight can have significant health benefits and for your partners too. 

Optimise control of existing health conditions

with your doctor, especially if you have any existing health conditions like polycystic ovarian syndrome (PCOS), insulin resistance, or type 2 diabetes, to reduce the risk of complications during pregnancy

Start eating healthily and follow an active lifestyle

to maximise the chances of getting pregnant, and in the case of the male, it also helps improve sperm quality.

Following a Mediterranean eating pattern may boost your chances of becoming pregnant for both men and women.
Start taking folic acid supplementation (at least 0.4mg daily)

if you're trying to conceive to prevent neural tube defects (NTD) in the offspring. 

Have a personalised nutrition consultation

 with a specialised pregnancy dietitian once you plan to start a family or as soon as you find out that you're pregnant.
 Remember, you're worth it and deserve to feel your best. Start with changing one small eating habit to make it stick.
Leave a comment below and tell me what 'ahas' did you learn from the role of preconception nutrition? Which one of the above action steps you'd like to focus on right now?
All my love
,
Catherine