1:1 Egg Optimising Nutrition Program
Do you feel like it's taking too long to get pregnant?
Do you have symptoms like irregular periods, not ovulating or fluctuating weight?
Are you confused about which prenatal supplements to take?
Do you want to boost the quality of your eggs?
Are you about to start another cycle of IVF, but you aren't sure if this will work this time?
Trying to get pregnant can quickly feel isolated — especially when it takes longer than you expected.
👉Maybe you've been googling 🧐 what you should do?
👉Maybe you've joined an online fertility support group?
👉Maybe you've spent a lot on different supplements and ovulation testing kits?
…But nothing seems to work😞 The more you read, the more pregnancy news you see in the group; it gets even more stressed and overwhelmed.
If this sounds like you…I HEAR you!
You've Come To The Right Place
The Master Your Fertility is a one-on-one egg optimising program that walks you through the 4-step scientifically proven methods to maximise your fertility.
This program is designed to cut through the confusion and help you regain control of your fertility to get pregnant with the holistic nutrition and lifestyles approach.
Whether you're just thinking of having a baby, currently trying to conceive, or pursuing fertility treatment like IVF, this program will help:
Support egg health and quality
Maximise the success of IVF treatment
Prepare for egg freezing
Maintain optimum health in preparation for pregnancy
Topics we cover during the one-on-one coaching sessions include:
What Not To Eat 
What To Eat 
Supplements For Egg Health
Detoxifying Your Body & Home
Weight – Does It Matter
Nourishing Your Microbiome
Exercise, Mind, Sleep & Habits
Timing – When To Have Sex

Initial Nutrition Consultation
Dietitian Catherine will first perform a comprehensive review of your health, blood tests, medications and supplements, body composition, dietary and lifestyle assessment to understand the root cause of the problem.

Personalised Nutrition Plan
You'll learn the proven steps to help you to optimise your fertility. You'll receive customised meal plans, recipes, a grocery shopping list, and a supplement regimen tailored to your unique body needs so you can take clear focused action.

Follow-Up & Support
All program materials are available for you to download. During each coaching sessions, you'll be able to ask questions, get feedback on your progress, and strategies to overcome roadblocks.
Meet Dietitian Catherine Chong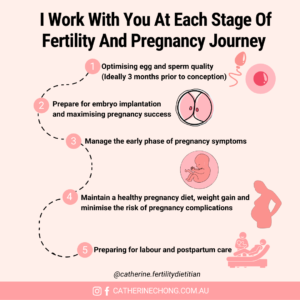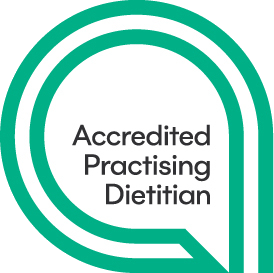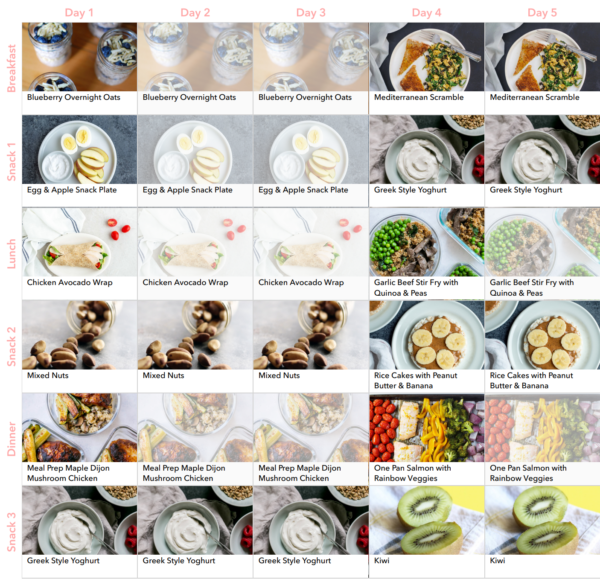 Improve your fertility naturally and maximise the chances of conceiving with evidence-based nutrition and lifestyle changes.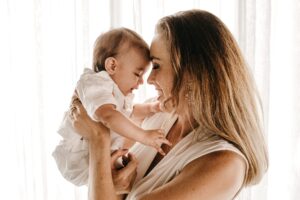 Frequently Asked Questions
Interested In Joining The Master Your Fertility Nutrition Program?
Book An Online Fertility Initial Assessment Consultation Now
More On Fertility Nutrition TV
You May Also Be Interested In